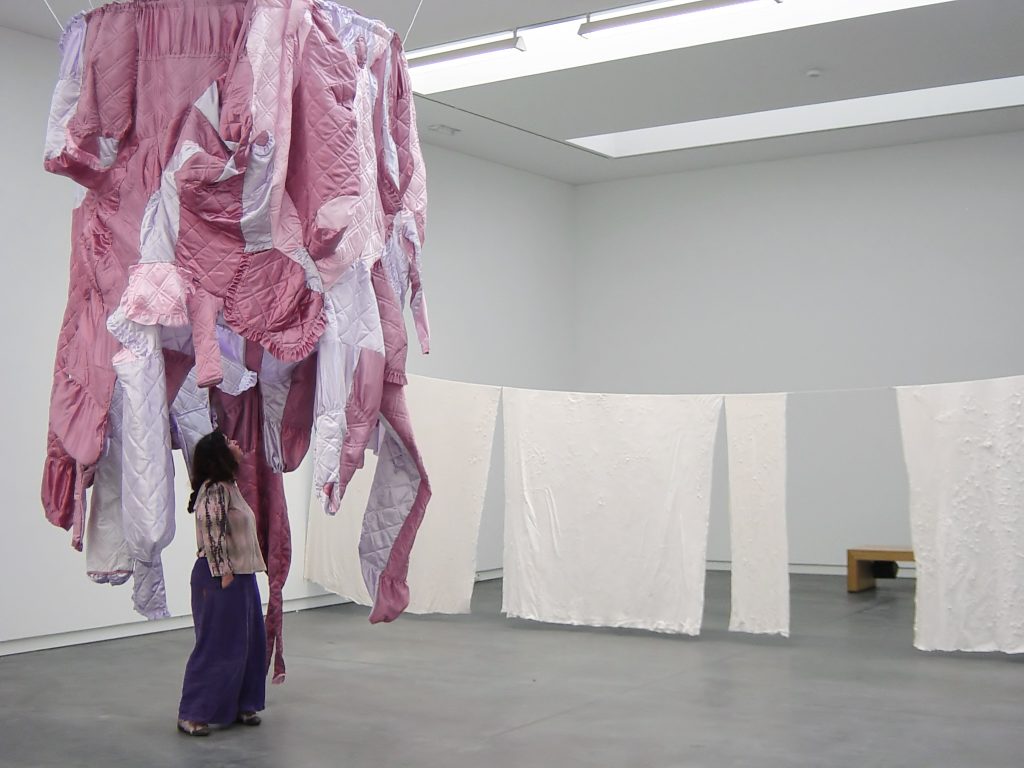 Can you explain who you are and what do you do?
I am Karin Arink, I am an artist and art educator.
My work has always consisted in a balance of collaboration, art education and an individual studio practice. In my collaborative work, I take on different roles, a.o. as communicator or co-curator for projects by Foundation B.a.d, and I have also done collaborations with a.o. Jeanne van Heeswijk and Renée Kool.
After some years of guest lecturing in various art schools in the Netherlands and Belgium, I started teaching at the Willem de Kooning Academy Rotterdam. I became first a tutor in what then was called 'Professional Orientaion' classes, then a Student Career Coach and am now the Course Leader of the BFA Fine Art and BFA Photography, both in the School of Art.
In my individual work I use a variety of media, such as text, drawings, animations and (textile, papier maché) objects and (cut-up) photos. The choice depends on what experience I choose to convey.
I make (wearable) sculptures and re-photograph these to make metamorphosing 'states of self' visible.
What themes do you pursue in your work?
My works embody what I call 'states of self': interactions between corporeality and ideas on how you should manifest yourself – through body postures, garments, language. Through transformed (physical) shapes, I aim to reconnect interpretations of who "I" could be, to an affect-rich experience of existence.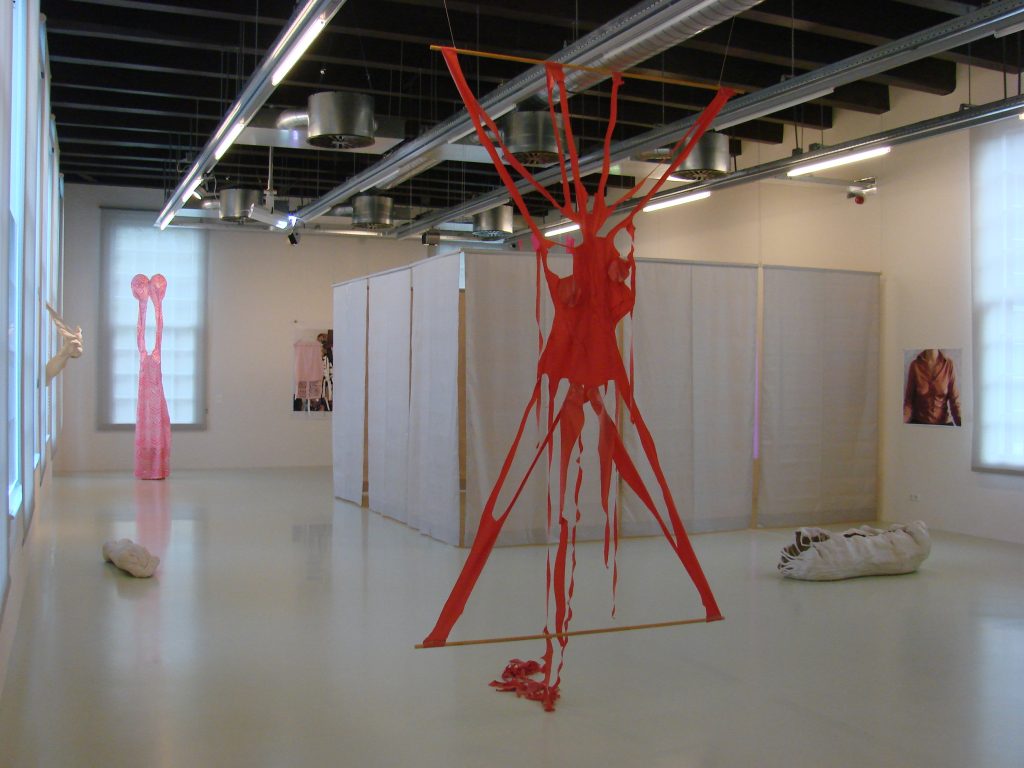 How has your practice evolved over time? What has been the main driver of that?
I started out a very ambitious young artist and was accepted to the Rijksakademie Amsterdam directly after finishing my BFA in Rotterdam in 1990. At the Rijksakademie I worked, finding my style and focus, and then started applying on open calls. After some half-succesful attempts, I did get into the final selection of the Prix de Rome Sculpture 1992 (together with Joep van Lieshout – now AVL, Tom Claassen and ao Mark Manders) and I won the First Prize. From that moment I worked as full-time artist (living off selling work and getting some government grants) up and until 1998-1999 when I went to live and work for a year in Japan, again with government funding. I participated in numerous exhibitions in the Netherlands and abroad, including the Van Abbemuseum, Centraal Museum Utrecht, Boijmans van Beuningen, Museo Pecci, Stichting De Pont, Gerhard Marks Haus Bremen, Rijksmuseum Twenthe (until 2021) etc., and had solos in a.o. Stedelijk Museum Schiedam (2008) and in Club Solo Breda (2016). I was represented by Galerie Tanya Rumpff in Haarlem and am now represented by RAM Galerie Rotterdam.
During all this time I was also actively participating in collaborative projects with artists like Jeanne van Heeswijk and Renée Kool. And most of all as a member of artist group (now artist-run residency) Foundation B.a.d, with whom I realised projects a.o. in the RCA Galleries in London (in the exhibition Democracy! in 2000). I have always liked the dynamic of artists thinking and creating together
When I came back from Japan, I started guest lecturing more and more and really loved doing it. With Foundation B.a.d our next project was to make sure our squatted school could become a long term artists residency, and this we achieved in 2012 after 10 years of lobbying and work.
Over the years, I decided to take art education more and more seriously. When I started a family, my focus became more on teaching and collaborating and less on my solo career even though I always want to continue making and exhibiting my work. I did a Master in Education in Arts of the Piet Zwart institute in 2014-2016. At the moment I am creating a new series of sculptures titled VerteerWezens (the Dutch verb 'verteren' means to digest, to process).
What role do you think artists have in society?
Maybe a metaphor is helpful: if society is a bread (with a focus on being practical and nutritional), then art – and all the micro ways people have of diverging, of thinking and acting differently – are like the air bubbles in it, left by the yeast. It may seem disfunctional or even silly, but without art and all these pockets of diverging thought, society would become too dense and heavy and indigestible.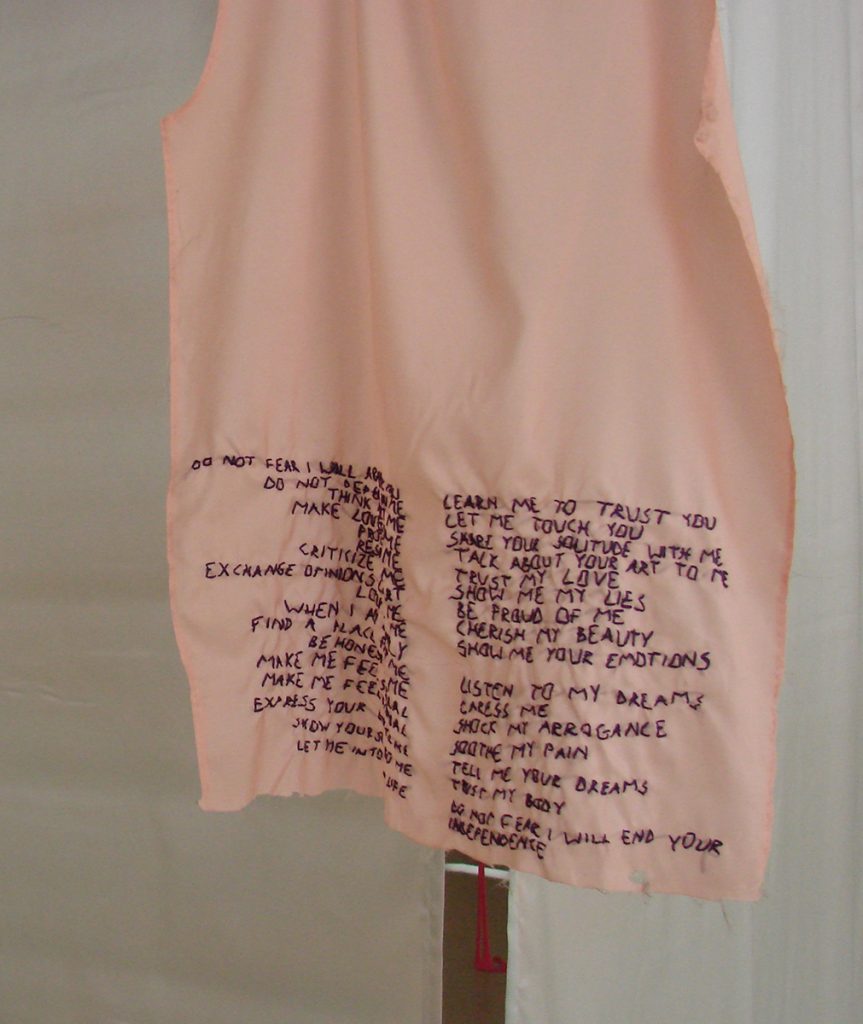 Can you describe a real life situation that inspired you to create?
My work is always inspired by my awareness of how I exist in relation to others.
To give an example, when I was graduating from art school, I was in a love relationship for the very first time. I realized that what I require of my love overlapped with what I would ask my viewers: to take me seriously, pay attention, be critical, be open minded, etc. So I made a text-as-work, embroidered, with all these short sentences.
Sometimes my work evolves from a more affect-rich sensation (for instance, of being very close to another) and then the physical shapes I make are like bodies melting into each other, for instance in a work like tweeen 1996.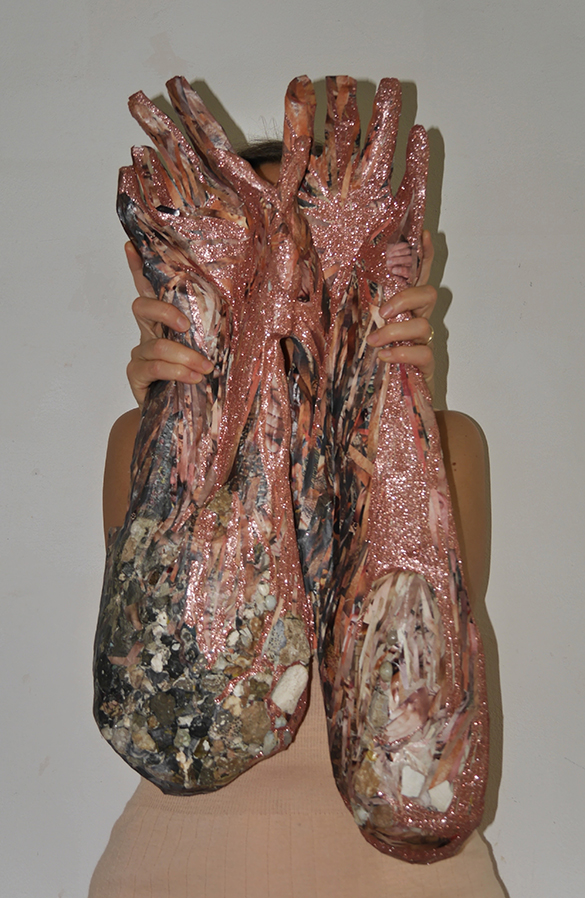 When you create an art installation, from where does your process start?
Often it starts with a word or a line. Sometimes a line of a song text, sometimes text written by me. For instance my installation I made for De Pont museum's Project Room was titled Manifold Mumbag and fragments of the white visions. 'Mumbag' is a word I devised as describing both the terrible, and strong aspects of becoming a mother – a 'scumbag' holding and birthing and cleaning and caring for the child. The Manifold Mumbag was a huge textile object, large enough to walk into, made of pink, purple, lilac and white shiny polyester satin bedcovers sewn to form bulges and limb-like extentions. The fragments of the white visions were a spoken text, a fragment of my artist novel S. the Bearer of STATE (2012) in which the protagonist is enclosed in a white white space.
What have you learned from your career as an artist that you would like to pass onto other practising artists?
That the art world is multi-faceted and holds many different art worlds with different value systems. What one adores, is hated by another, so it is important to find the world you can work in. Also, all art worlds are changing and unpredictable, so what is regarded as stupid now can be genius later. So keep to your own path! Keep making! And find your allies..
Do you think an artist needs an ultimate goal in his/her work? If so, what yours?
What kind of goal? Do you mean success-wise, or content-wise? I have no idea and would not feel capable of answering this for others. I used to have a goal of becoming very well known, but then I felt that being an 'art star' seemed to require all of my attention and I was not willing to give that to art (my art, nor the art world). For me communication with others both outside and inside the art world is much much more important than my own career. I love seeing an insight land during a talk with a student, or to share my knowledge with colleagues in Foundation B.a.d. My goal now is to continue creating works, as I feel that now I am 50+ my perspectives again are changing and I want to create from these new points of view.
What could you not live without as an artist?
I could never live without creating new work (whether it is in text, image, sculpture, …) or without the dialogue within art education.
---
Where to follow Karin Arink:
WEBSITE : https://dekko.nl/
FACEBOOK : https://www.facebook.com
INSTAGRAM : https://www.instagram.com